Invisalign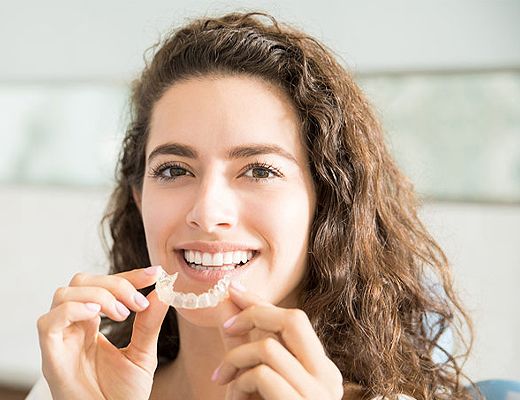 Are your teeth crooked, crowded, or misaligned? You don't have to live with this problem; in fact, you shouldn't. Misaligned teeth can be more difficult to clean and may grind improperly against other teeth in the mouth.
This can lead to problems like dental decay, tooth pain, and of course, cosmetic problems. The traditional solution to this problem is to wear braces. At Florida Keys Dentists, we have a better solution: Invisalign clear aligners. As your dentist in Tavernier, FL, we can help you decide if Invisalign is the right dental tool for you.
What Are Clear Aligners? What Is Invisalign?
Clear aligners are made of clear plastic that fits over the teeth and gently shifts them into place. Once the teeth have shifted into the position, a new set of clear aligners is given to the patient to shift the teeth further. In this way, the teeth are realigned in phases until they're fully aligned and straight.
Invisalign is one of the best-known brands of clear aligners on the market. This reputable company has been in business for many years and has developed a patented plastic material that is considered more effective at shifting teeth than other brands of clear aligners.
Who Needs Invisalign?
You may need clear aligners if your teeth are crooked, or crowded, or if your teeth don't come together when you close your mouth. Your dentist may require that you have good oral hygiene and sufficient jaw bone before using Invisalign. To find out whether Invisalign is a good solution for your teeth, contact your dentist at Florida Keys Dentists.
Benefits of Invisalign Over Traditional Braces
There are many benefits of Invisalign over traditional braces. If you're considering traditional braces to align your teeth, here's what you need to know about the benefits of Invisalign.
Aesthetics. Unlike traditional braces, Invisalign is nearly invisible. It's very hard to tell when you're wearing Invisalign clear aligners, which means you don't have to feel self-conscious about your smile when you're wearing clear aligners.

Eat whatever foods you want. Traditional braces can be damaged by hard or sticky foods. Clear aligners can be removed at any time, which means that you don't have to worry about which foods are and aren't compatible with clear aligners. Simply remove your aligners for meals, if needed.

Easy to clean and maintain. Because Invisalign can be removed at any time, they're easy to clean and maintain. This stands in contrast to traditional braces, which must stay on the teeth and are difficult to clean and floss.
Want Invisalign To Straighten Your Teeth? Call Today
At Florida Keys Dentists, we offer Invisalign services in Tavernier, FL. If you have crooked teeth, you could benefit from Invisalign. Call today to make an appointment and learn more about how Invisalign could help you.